Story of William R. Martin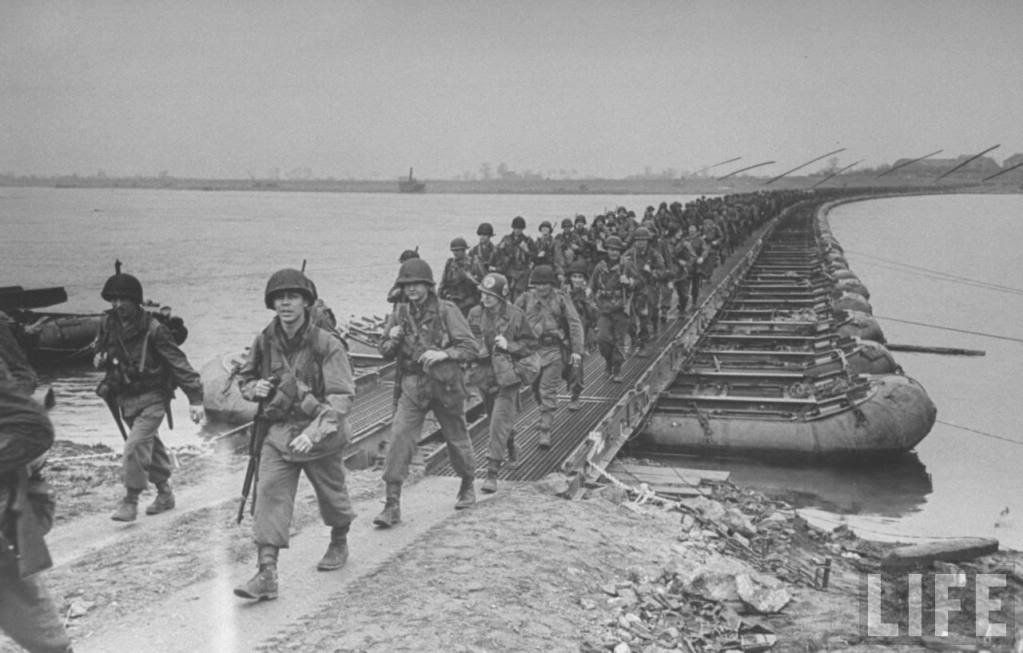 William R. (Ralph) Martin
Staff Sergeant
February 8, 1943 – January 17, 1946
World War II, 555 Engineer Brigade, transitioning to newly formed 187th Engineer Combat Battalion
Victory Medal, American Theater Ribbon, European African, Middle Eastern Theater, Ribbon with 3 Bronze Battle Stars, 2 Overseas Service Bars, Good Conduct Medal
Served: Ardennes, Rhineland, Central Europe
Stock Record Clerk, SS With Carbine Rifle
Ralph was born on February 28, 1924, in Dodgeville, WI to John C and Laura Prideaux) Martin. His mother died when he was five years old. Sara Prideaux's grandmother helped his father raise Ralph and his older brother, Howard. Through his early years, Ralph loved to spend time helping at family farms in the surrounding area. He graduated as a salutatorian from Dodgeville High School in 1942. He soon would be called to serve in World War II, leaving his Freshman year at WW Madison and finishing upon his return from war.
Ralph married Sally Jo Smart on December 1, 1951, and their marriage of 66 years was filled with love and devotion for each other. Ralph and his brother Howard owned and operated the family business Martin Brothers Oil Company, a bulk oil and fuel distribution company, until retiring in 1975. These best of friends also operated beef farming operations and real estate ventures.
In retirement, Ralph often vacationed with his wife from Europe to Hawaii, and frequently lived in Corpus Christi, TX during winters. He was blessed with many grandchildren who he loved to play cards with. Ralph treasured his lifelong friendships, including 50 years in a couple's bridge club. Over the years he enjoyed many hobbies such as making rock jewelry, gardening, woodworking, bird carving, and acrylic painting. In his later years, Ralph resided with his daughter Laura.  Ralph has one daughter, 3 sons, 13 grandchildren, 12 great-grandchildren, and 1 great-great-grandchild.
The following are excerpts from a book Mr. Martin held in his archives, "The Story of the 187th Engineer Combat Battalion" Mr. Martin was one of 33 men who were transferred from the 555th Engineering Heavy Pontoon Battalion to become part of the new 187th Engineer Combat Battalion," supply section". This 1,200-member battalion was one of many battalions that became the assault troops of the Army.
"On countless landings and invasions throughout the entire Second World War, engineers, carrying high explosives, stormed ashore from small boats and under withering artillery and small arms fire, blasted gaps through steel obstacles or anti-tank walls and breached minefields.
Engineer special brigades operated beachheads to put ashore supplies across open beaches, without the benefit of port facilities. Men and machines cleared the beaches of mines, debris, and wrecked vehicles, built roads, then pushed forward to batter roadblocks and fill anti-tank ditches.
Pointing the spearhead of advancing U.S. Armies were engineers who led assault waves of infantry across rivers in storm boats, then threw tactical bridges across the streams and rivers of Italy and Northern Europe. They kept the highways open, filled in shell craters, and demolished enemy pill boxes.
Throughout the war, engineers kept the supplies moving too, and with incredible speed, they laid pipelines from beaches to fighting fronts. Railroad bridges were rebuilt, and port construction units cleared and rebuilt wrecked port facilities. Aviation engineers moved forward building airstrips and bases to give ground forces closer air support. Topographic units supplied more than 6,000 tons of maps and charts, which they had produced during the 90 days of the Normandy invasion.
Engineer water supply units kept the thirst of swiftly moving armies quenched with pure drinking water. Fire-fighting platoons kept the menace of fire at airfields and supply installations to a minimum.
The basic engineer unit is the combat battalion. In a limited manner, a combat battalion can perform any or all the functions of the other types of engineer units in addition to fulfilling its primary mission—combat support. Foreseeing the great need for this type of unit, the War Department activated, in the autumn of 1943, many combat battalions whose primary mission was to be close support for the divisions which were soon to take part in the assault on the European and Pacific fortresses."
Deceased 8/15/2021, Interned at East Side Cemetery, Dodgeville, WI.
Contact us at the187thengcobn@aol.com
You can sign up for more information at https://187th-engineering-combat-battalion.ghost.io/ghost/#/site
If you are a WWII vet or a family member and wish to include your history or the history of a loved one, I'd love to hear from you. My main emphasis is to acquire the history of the men who served.
YOU CAN CATCH UP ON THE JOURNEY OF THE 187TH BY SEARCHING FOR THESE PAST POSTINGS ON THE INTERNET.
FOR EXAMPLE
187TH ENGINEER COMBAT BATTALION "TITLE OF STORY" LET'S SAY "CAMP WHITE."
These articles are listed from newest to oldest.
RHINELAND
CENTRAL EUROPE
ARDENNES-ALSACE
PASSENGER LIST
STORY OF WILLIAM R. MARTIN
CAMP WHITE: OREGON GOES TO WAR
187TH ENGINEER COMBAT BATTALION PHOTO
US 9TH ARMY
CHARLIE COMPANY
BAKER COMPANY
ABLE COMPANY
SUDDENLY THE MOVE
THE STORY OF THE 187TH ENGINEER COMBAT BATTALION: THE NEXT DAY
THE STORY OF THE 187TH ENGINEER COMBAT BATTALION: IN THE BEGINNING
CAMP WHITE OREGON
Note. You can access past postings by clicking on the HOME icon or picture in the upper left-hand corner of the page.  It will take you to the home page where you can view past Articles.