Another Soldier Moves On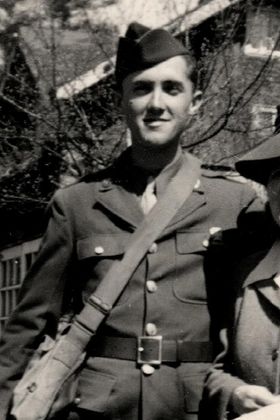 CLARKSON BLUNT JR.
Mar 19, 1922 - Dec 14, 2022
Obituary
On December 14th, 2022, our Dad and Papa passed away peacefully with his daughters at his side.
The oldest of five children, Clark was born to Clarkson and Frieda Blunt on March 19th, 1922, in The Dalles, Oregon. He spent his childhood in Oregon fishing and hiking in the beautiful state he loved. He and his family built a beach home together in Cannon Beach, Oregon where our family spent many summers vacationing together.
Clark was a World War II veteran. He was drafted into the army while in college in 1942 and fought in many battles in Central Europe with the 187th Co. Engineering Branch. After being honorably discharged in 1946 Clark returned to Oregon State College and completed his degree in Fish and Game Management. Clark accepted a marine biologist position with the Department of Fish and Wildlife in Long Beach, California where he met a pretty girl in the clerical pool named Arline Hill. They were married in 1952 and raised our family of six children. His professional life took us to live in a few locations in California with many adventures from Long Beach to Arcata and places in between. One of his proudest professional accomplishments was developing a tag for Albacore tuna that enabled the Department to monitor a fish he tagged off the coast of Southern California and later caught in Japan. He retired from the Department of Fish and Wildlife in 1982 to enjoy his home and family in Granite Bay.
He is preceded in death by his parents and siblings, his beloved wife Arline, son Matthew Blunt and dear friend Lois Evangelisti. He will be missed by his five daughters, Barbara Hempstead (Howard), Paula Crew (Kipp), Marie Crist (Donald), Cynthia Tamburo (Louis), and Lydia Barnum (Marc), thirteen grandchildren, seventeen great-grandchildren, and many nieces and nephews.
We are truly grateful to him for instilling his love of nature and respect for the environment and for the many memorable family camping, hiking, and fishing trips. He will be remembered for his strong will and love of a good debate, but most of all his love for his family.
Special thanks to the staff of Sterling Court at Roseville that made our dad comfortable in his last few months. On January 11th, 2023, at noon, there will be a graveside service at Sacramento Valley National Veterans Cemetery in Dixon. In lieu of flowers donations can be made to St. Jude Children's Research Hospital or Oregon State University Marine Biology Department.
Sacramento Valley National Cemetery
Wednesday, Jan 11, 2023
12:00 pm
Graveside Service
5810 Midway Road
Dixon, Ca
Note. You can access past postings by clicking on the HOME icon or picture in the upper left-hand corner of the page.  It will take you to the home page where you can view past Articles.
Contact us at the187thengcobn@aol.com
You can sign up for more information at https://187th-engineering-combat-battalion.ghost.io/ghost/#/site