Able Company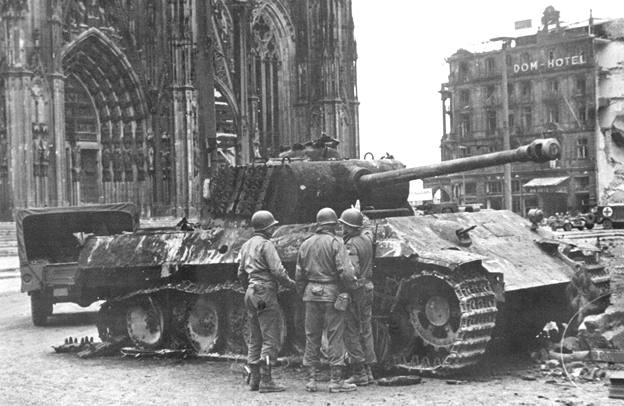 We began our training at Camp White in October 1944, situated in the peaceful Rogue river valley in Oregon. Basic training, which we all took together, was uninteresting and tough. I don't look back on those days with too much fondness now but even then, there were always a few laughs. I chuckle when I remember how Berl Crist looked when he fell into the river during a bridge-building problem.
The end of basic was the end of my stay in Oregon.  We were to be shipped South, so in keeping with the best army logic on how to confuse the enemy, we headed North.  This was my first experience with a troop train and it didn't leave a very favorable impression.
After many trying experiences, including a time when the train went AWOL, we arrived at Camp Howze, Texas, for a few more weeks of training.  It was really difficult here.  They kept us going all hours of the day with bridge-building, night problems, and guard, that ever-present guard.  Of course, we managed our good times too.  I'll never forget the night we went on a compass problem.  Two of the fellows, Paxton and Caulfield, took an azimuth on the light of a plane, mistaking it for a star and I guess they had covered half of Texas before they were put on the right track by Eddie Locke and George Vanderhave.
Our unit training finished, we were put to the rest, maneuvers in the West Virginia wilderness.  All in all, our stay there was not too bad.  There was plenty of hard work but there was also some play.  Then, for a little variety, nature cooked up a humdinger of a cyclone which wiped away our camp one night while we were bivouacked atop Caanan mountain.  West Virginia had a particular type of mud with which we never became reconciled.  I liked the camp we had set up near the corrals in Gladwin valley best because it offered fishing and swimming facilities to the fellows in the mountain stream.  
With the end of our maneuvers, we were all set for POM, so off we went to Camp Pickett, Virginia.  This Proved to be another term of basic training, which certainly exasperated us.  But there was plenty of passes and time to enjoy the special services about the camp.  Inspections were thicker than the Virginia chiggers.  The nicest thing that happened to me at Camp Pickett was the arrival of Captain Jack Witt as my company commander.  For all the time he was with us, he held all the fellows' respect and admiration.
Soon, it was time for my (A company) ocean trip, so with my brothers,  I set off for Fort Slocum, situated on a lovely island just off New Rochelle, New York.  My stay there was very pleasant, but, as pleasant things usually do, it ended all too soon.
When we landed in England, my brothers and I each went our own way.  I went first to the North, to a nice little town named Dalton-on-Furness where the fellows prepared camps for troops that were to follow later.  For a month after this job, all I did was run around England doing the same kind of work.  I was beginning to think we had been brought over to play chambermaid to the rest of the  U. S. Army when our work ended and we settled down in Delemere Park, outside of Cuddington, for a little more training.  Here we stayed until it was time for the trip across the English Channel.
Just a few days before Christmas, we moved to a camp near Southampton to await our ship.  It was a dismal place and to spend Christmas in a place like it lowered the fellow's morale.  But Capt. Jack was up to the occasion and he saw to it that the company enjoyed Christmas.  He arranged a turkey dinner for Christmas Eve which hit the spot after a week of "C" rations.  This, together with the party that followed helped to raise our spirits.
A few days after Christmas we crossed the channel in what was, perhaps, this body of waters meanest mood, and landed at Le Havre.  What we experienced in England was heaven compared to what was in store for us here.  Pup tents, inadequate bedding and clothing, and a score of other things went to make life miserable.  Fortunately, this ordeal lasted only a week, until we moved into the shelter of an underground fortress of the Maginot line.  The sound of guns in the distance did much to make us jittery and it was quite often that one of the fellows would swear that he had seen a post move or that a couple of jerry cans were slowly creeping upon him.
When we left the line, we journeyed into the Lorraine sector of France.  Life became more pleasant as we acquired more enemy equipment.  Some of the luxuries of a soldier's life became ours.  We had our light plant, among other things.  From this time on, all our stays were to be in billets.
The Battle of the Bulge had just turned to our favor but there was still much to be feared from the enemy's might.  We worked hard building and guarding roadblocks.
Holland was our next stop.  The Dutch people impressed us very favorably.  They were so neat and clean and friendly.  I remember how many of the fellows used to take pieces of furniture and stoves from wrecked houses in Germany to give to the Dutch since their homes had been stripped clean by the retreating Huns.  It was while we were in Holland that we experienced our first baptism of fire, the crossing of the Roer, but this was merely a prevue of bigger things to come.
It seemed that we were fated to be continually on the go.  Though we moved a lot, life was not hard.  It was the best of everything for the men as far as Capt. Jack was concerned.  We had the best billets and many of the little things which many soldiers never see.  Well do we remember all those stray cows that were converted to tasty steaks.
At the beginning of March, 1945, we returned to Holland for some special training. This turned out to be on the river crossings for we were slated to make the assault crossing of the Rhine.
On March 24th,  the big show came off.  It was something we will all remember. The silence when we first approached the site, the shelling of the enemy shore, the signals, the shouting of the men, and the humming of the motors all seemed to be part of a dream.  But they were all very real that night.  How many times have I heard the fellows talk over the experience but now and then a note of sorrow crept in as they remembered Doty, that likable kid who was always griping.  It didn't seem right that he should have been killed that night.  
After our next big job, the Rhine-Herne canal crossing, we rest on our laurels.  But we became combat troops again for the Elbe crossing.  Some of the fellows helped out.  Across the Elbe, we went our merry way. Germany's day was numbered and her troops were confused, but they had nothing on us.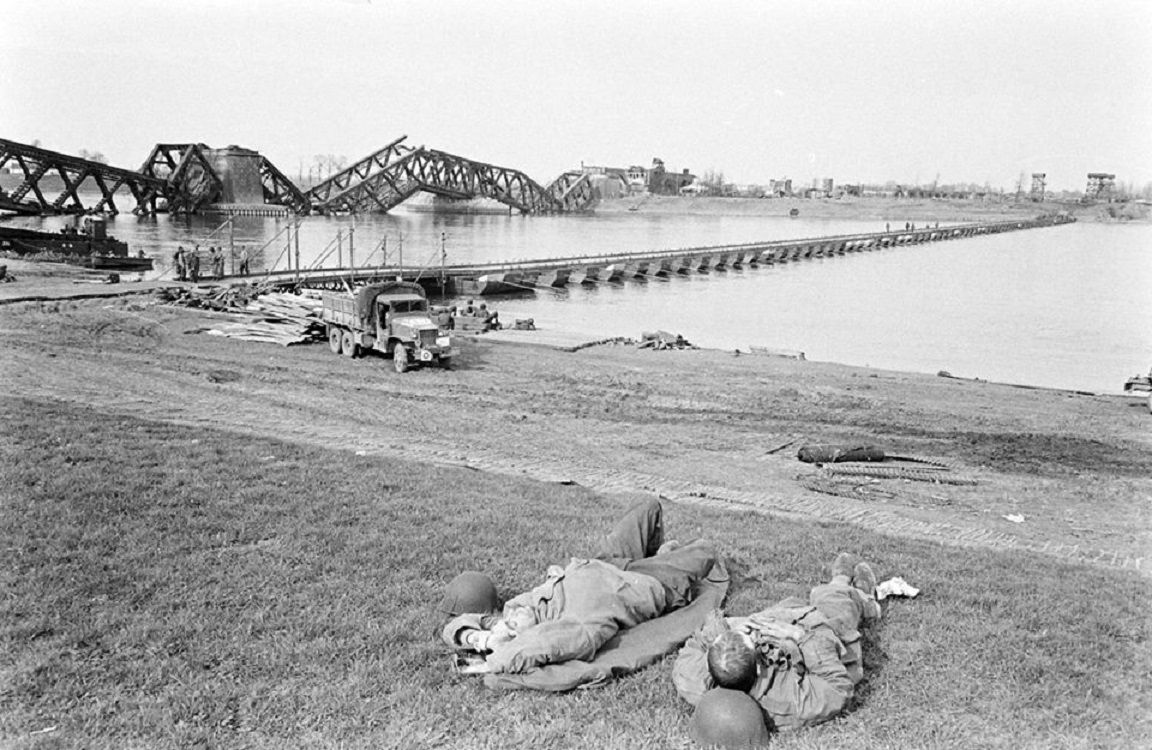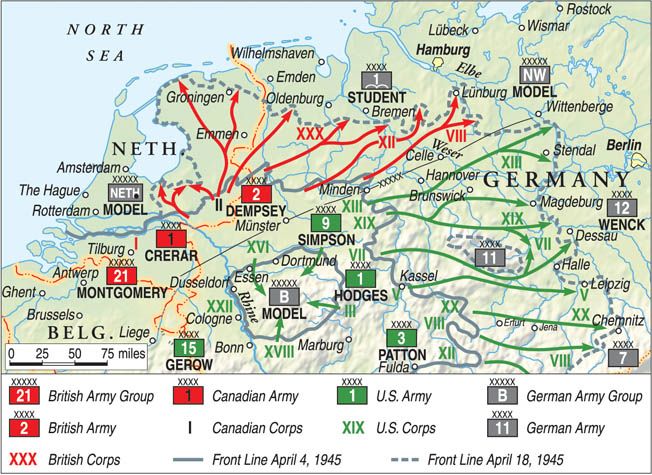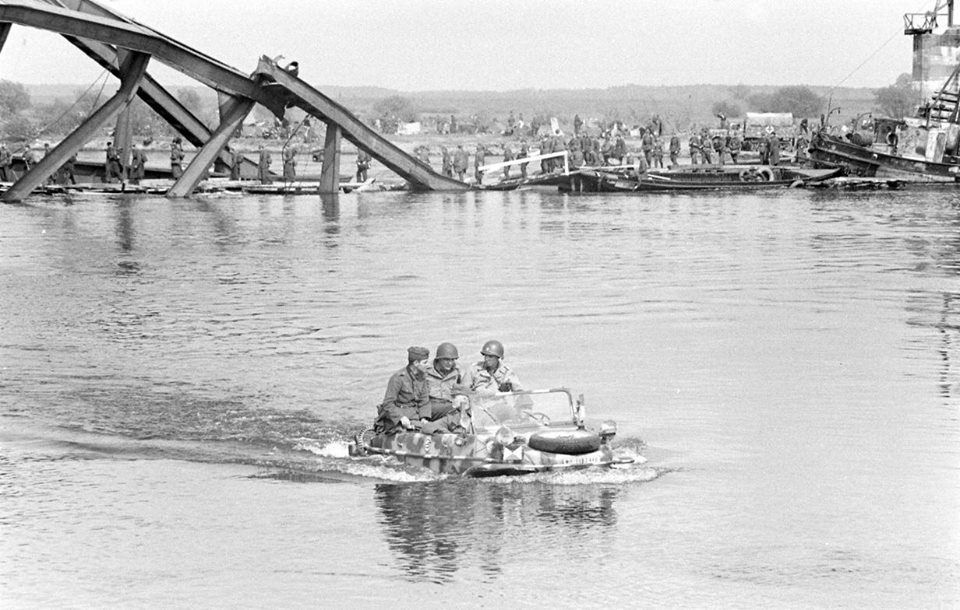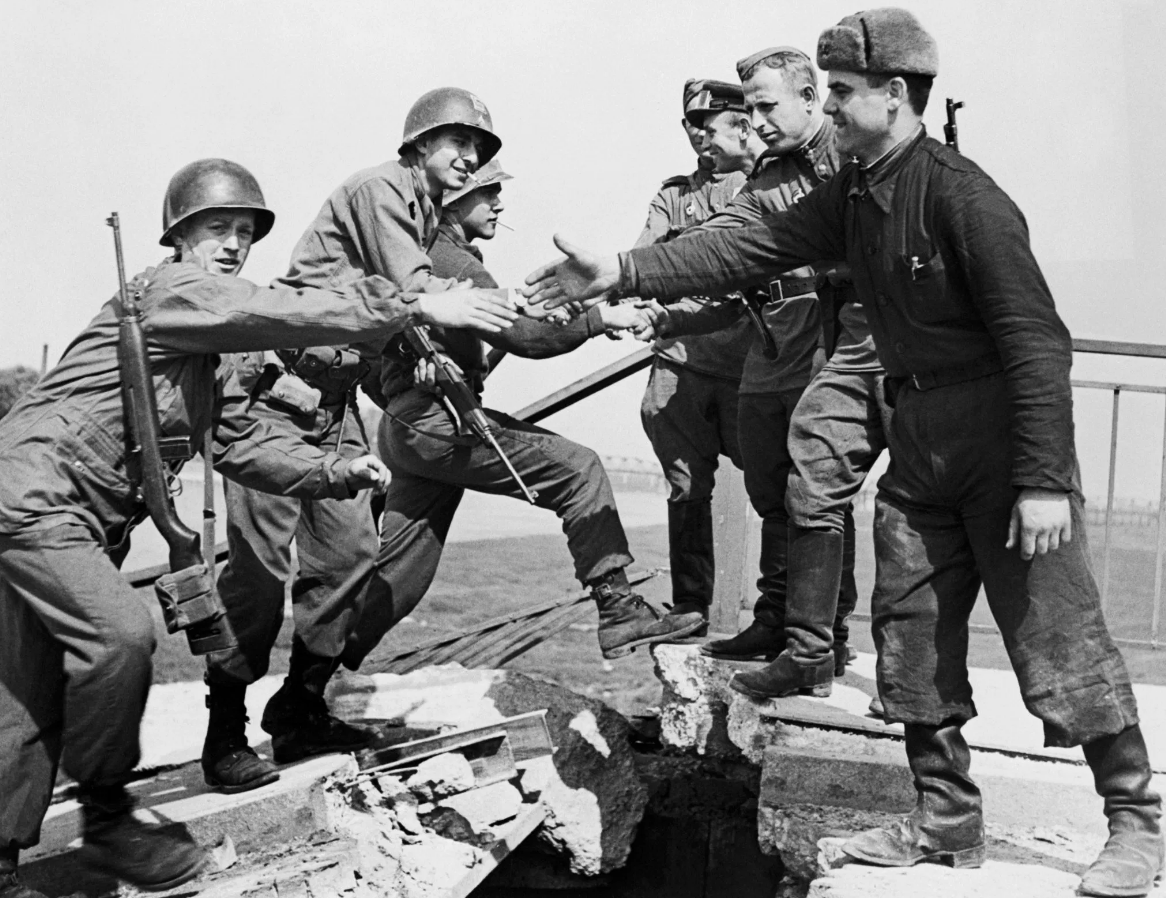 V-E day found us at Hagenow.  Everyone was happy those last few days of the war. There were pistols for everyone who wanted them and souvenirs to be sent home could be found on any street corner.  With the war over, we settled down and awaited whatever was in store for us.  Then came a series of moves, Braunschweig, Dessau, Alsbach and finally Viernheim.
At Viernheim, we lost Capt. Jack.  he had become impatient at all the delay and had volunteered for the Pacific War.  It was a great shock to lose him, but to lose him for no reason (the war with Japan ended two weeks later) was even worse.
It wasn't long before the point system began to break up my company.  The older men, who had been with me from the beginning, were leaving and others were taking their places.  But with each one who left, a part of me left too.  So you see what I mean when I say I can't be wiped out.  They can do it on paper, but I am made of sturdier stuff and it will take more than written words to make my fellows forget me. Able, of the 187th Engineer Combat Battalion.
Contact us at the187thengcobn@aol.com
You can sign up for more information at https://187th-engineering-combat-battalion.ghost.io/ghost/#/site
If you are a WWII vet or a family member and wish to include your history or the history of a loved one, I'd love to hear from you. My main emphasis is to acquire the history of the men who served.
YOU CAN CATCH UP ON THE JOURNEY OF THE 187TH BY SEARCHING FOR THESE PAST POSTINGS ON THE INTERNET.
FOR EXAMPLE
187TH ENGINEER COMBAT BATTALION "TITLE OF STORY" LET'S SAY "CAMP WHITE."
These articles are listed from newest to oldest.
RHINELAND
CENTRAL EUROPE
ARDENNES-ALSACE
PASSENGER LIST
STORY OF WILLIAM R. MARTIN
CAMP WHITE: OREGON GOES TO WAR
187TH ENGINEER COMBAT BATTALION PHOTO
US 9TH ARMY
CHARLIE COMPANY
BAKER COMPANY
ABLE COMPANY
SUDDENLY THE MOVE
THE STORY OF THE 187TH ENGINEER COMBAT BATTALION: THE NEXT DAY
THE STORY OF THE 187TH ENGINEER COMBAT BATTALION: IN THE BEGINNING
CAMP WHITE OREGON
Note. You can access past postings by clicking on the HOME icon or picture in the upper left-hand corner of the page.  It will take you to the home page where you can view past Articles.